Modeling and Simulation Pages Ichikawa, Kiyoshi.
Processing and System Pages Ichikawa, Kiyoshi. Characterization of Properties Pages Ichikawa, Kiyoshi.
Applications Pages Ichikawa, Kiyoshi. Read this book on SpringerLink. Recommended for you. PAGE 1. Zhai, Q. Zhang and R. Wakamatsu, T. Saito and F. Kuroda, M. Tadano and A. Teraki and T. Nishio and T. Anatychuk and L. Ohsugi, T. Kojima and H. Watanabe, M. Miyajima and A. Amada, J. Terauchi and T. Miyajima, G. Lee and A. Yamamoto and T. Lee, J. Seo and K. Seo, D. Lee and K. Abe, H. Kohri and I. Chen, T.
Goto and T. Schilz, E. Muller and W. Orihashi, Y. Noda and L. Yoneda, H. Kaibe and T. Koshigoe, I. Shiota and Y. Kang, Y. Noguchi, K. Takahashi and T. Lin, K. Tanihata and Y. Kato, A. Aruga and Y. Aruga, K. Tsuneyoshi and Y. Imai, Y.
Types of Functionally Graded Materials and Their Areas of Application
Shinohara and I. Kishimoto, Y. Nagamoto and T. Kajikawa, S.
Most Downloaded Articles
Suzuki and K. Amano, N. Kamiya and S. Fukuda, Y. Kasuga and K. Katoh, R. Fukuda and T. Kato, K. Morimoto and K. Ohashi, K. Ueki and T. Shibahara and M. Iwase and Y. Otooni, J. Atkinson and I. Minagawa, Y. Endo, K. Uheda and H. Moller, Z. Li and Q. Watanabe, Y. Nakamura and Y. Yamamoto, H. Yuan 87 Fractal geometry and it's implications to surface technology D. Bhatt, O. Bahl, R. Schumacher and H. Meyer 93 Database system for project of the functionally graded materials K. Kisara, A. Moro, Y. Kang and M. Niino Erdogan Microstructural effects in functionally graded thermal barrier coatings M.
Pindera, J. Aboudi and S. Ishizuka, Y. Ohta and K. Ishizuka, C. Kang and K. Nomura and D. Kawasaki and R Watanabe Thermal fracture mechanisms in functionally graded coatings K. Koklnl, Y. TakeuchI and B. Choules Sogabe, M. Tanaka, T. Mlura and M. Tobloka Graded casting for producing smoothly varying gradients in materials B.
Marple and S. Tuffe Gradient components with a high melting point difference M. Joensson, U. Birth and B. Kieback Fabrication of pore-gradient membranes via centrifugal casting aw.
Hong, F. Muller and P. Zhu, Y. Zhang, Z Ying, H. Yeo, Y. Jung and S. Nishida, K. Imamura, H. Oguraand Y. Kihhara, T. Tsujimoto and Y. Tomota Mechanical performance of ZrNi functionally graded material by powder metallurgy J. Zhu, S. Lee, ZD. Yin andZH. Saito, N. Sakamoto, K.
Nishida and H. Kawamura Sarker, S. Sakaguchi, E.
Functionally graded material - FGM in Ansys - Axial bar
Yonehara, J. Hamagami, K. Yamashita and T. Barmak, S. Banovic, H.
Chan, L. Friedersdorf, M. Harmer, A. Marder, CM.
Functionally Graded Thermoelectric Materials
Petronis, D. Puerta and D. Susan Functionally graded materials by electrochemical modification of porous preforms A Neubrand, R. Jedamzik and J. Kude and Y. Sohda Fukushima, S. Kuroda, S. Kitahara, K. Ishida and M. Tanizaki, M.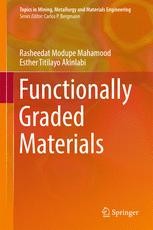 Functionally Graded Materials 1996
Functionally Graded Materials 1996
Functionally Graded Materials 1996
Functionally Graded Materials 1996
Functionally Graded Materials 1996

Functionally Graded Materials 1996
Functionally Graded Materials 1996
---
Copyright 2019 - All Right Reserved
---